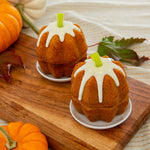 INGREDIENTS
1 Package WOW Baking Company Gourmet Spice Cake Mix
3 large eggs
1/3 cup Pumpkin (canned)
1/4 cup milk
1 - 16 oz containers of vanilla icing
A few pieces of licorice candy
DIRECTIONS
Makes 1 9-inch Cake or up to 6 Small Bundt Cakes

1) Preheat oven to 350 degrees.
2) Lightly grease 2 - 9" round cake pan or small bundt cake pan
3) Mix Gourmet Spice Cake Mix per instructions on bag EXCEPT add pumpkin instead of butter to the batter. Pour batter into cake pan or evenly into bundt cake pans.
4) Bake for 35 - 40 minutes, or until toothpick inserted in center comes out clean. 
5) Cool until pan is slightly warm and remove from pans by flipping cakes onto serving platter. 
6) Drizzle cakes with gluten-free vanilla icing or try the Creamy Vanilla Butter Frosting Recipe.
7) Use icing to adhere to small bundt cakes bottom to bottom and drizzle with icing.
8) Use licorice for pumpkin stems
9) Enjoy!