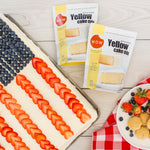 INGREDIENTS
3 bags WOW Baking Company Gourmet Yellow Cake Mix
9 large eggs
1 cup butter
3/4 cup milk
3 - 16 oz containers of vanilla icing
6 oz blueberries
1 lb strawberries
DIRECTIONS
1) Preheat oven to 350 degrees.
2) Line with parchment paper and lightly grease 17.25" x 12.25" baking sheet pan.
3) Mix Yellow Cake Mix per instructions on bag, pour batter on the prepared pan.
4) Bake for 35 - 40 minutes, or until toothpick inserted in center comes out clean. 
5) Cool completely and remove from pan by flipping cake onto serving platter. 
6) Ice cake with gluten-free vanilla icing or try the Creamy Vanilla Butter Frosting Recipe.
7) Decorate with blueberries and sliced strawberries to resemble American flag. 
8) Refrigerate until you serve soon. Berries will juice after 1 day.
9) Enjoy!