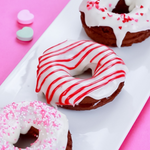 Jelly-Filled Chocolate Cake Doughnuts
INGREDIENTS
Gourmet Gluten-Free Chocolate Cake Mix
1/3 cup chocolate frosting
Your favorite jam or jelly
Assorted sprinkles, nuts, chopped candy, decorating icing.
DIRECTIONS
Makes About 6 Jelly Filled Doughnuts

1) Prepare WOW Gourmet Chocolate cake batter according to the package instructions.
2) Lightly spray doughnut pan and fill 3/4 of the way with batter.
3) Bake at 350 degrees for 20-25 minutes or until a toothpick comes out clean when inserted in the middle of a doughnut.
4) Remove from pan and let cool to room temperature on rack.
5) Repeat with remaining batter.
6) Put two halves together to make a sandwich.
7) Place jelly filled doughnuts on rack and cover with icing.
8) Decorate with sprinkles and decorating icing.
9) Enjoy!