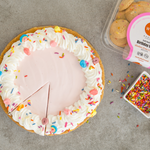 Happy Birthday Gluten-Free Pie
INGREDIENTS
8 oz WOW Baking Company Birthday Cake cookies
1/3 cup butter
1 8 oz tub whipped topping - thawed
3-5 drops purple food coloring
12 oz strawberry yogurt
1 cup small marshmallows
DIRECTIONS
Makes 1 Pie

1) Pulse Birthday Cake cookies in a food processor until the mixture resembles crumbs.
2) Add 1/3 cup butter cut into cubes and pulse until a dough forms.
3) Press evenly into pie pan and chill in the refrigerator.
4) Mix Whipped Topping, purple food coloring and strawberry yogurt until smooth and combined.
5) Spoon into chilled pie crust and freeze overnight - at least 8 hours.
6) Decorate with a rim of whipped topping, sprinkles and small marshmallows.
7) Serve cold and enjoy!