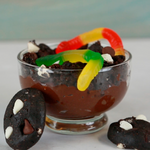 INGREDIENTS
1 Pouch WOW Baking Company Triple Chocolate Chunk Cookies
Assorted Gummy Worms
1/2 cup white sugar
3 tablespoons unsweetened cocoa powder
1/4 cup cornstarch
Pinch of salt
2 1/2 cups milk
2 tablespoons butter
1 teaspoon vanilla extract
1/4 cup gluten free chocolate chips
DIRECTIONS
Makes 4 Dirt Cups

1) In a saucepan, stir together sugar, cocoa, cornstarch and salt.
2) Stir in milk and cook over medium heat.
3) Bring to a boil, and cook, stirring constantly, until mixture thickens.
4) Remove from heat, and stir in butter, chocolate chips, and vanilla.
5) Stir until chocolate chips have melted.
6) Spoon 4 BIG tablespoons of finished pudding into each cup.
7) Crunch up 3 to 4 Triple Chocolate Chunk cookies for each cup. Sprinkle over pudding until covered.
8) Top with Gummy Worms!
9) Enjoy!
Gluten-free pudding recipe: www.gfkitchenadventures.com