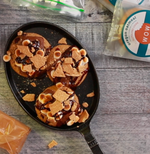 Easy Gluten-Free Cookie S'mores
INGREDIENTS
3 2.75oz WOW Baking Company Oregon Oatmeal Cookies
1 Chocolate Candy bar (gluten-free)
1 cup Small Marshmallows
Chocolate Sauce
2-3 Graham Crackers
DIRECTIONS
Makes 3 Cookie S'mores

1) Place Oregon Oatmeal cookies on a cast iron skillet.
2) Top each cookie with at least 1/4 of the chocolate bar.
3) Cover the chocolate bar with small marshmallows.
4) Bake in oven or grill over open campfire until chocolate is melted and marshmallows are soft or browned.
5) Drizzle chocolate sauce over each cookie and finish with crumbled graham crackers.
6) Serve warm and enjoy!