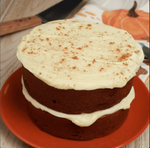 Chocolate Pumpkin Spice Cake
INGREDIENTS
1 Package of WOW Baking Company Spice Cake Mix
3 Large Eggs
1/3 Cup Easy Pumpkin Pie Filling
1/3 Cup Cocoa (plus a little to sprinkle on top)
Our Favorite Cream Cheese Frosting
INSTRUCTIONS

Makes One 2-layered, 5" Cake
1) Preheat oven to 350° F and prepare pans for baking.
2) Combine dry WOW Baking Company Spice Cake Mix with cocoa.
3) Stir in pumpkin pie filling
4) Add eggs one at a time.
5) Mix well. Scrape bottom and sides of bowl and beat on medium-high speed with mixer until smooth.
6) Portion the batter evenly into a pre-greased 5" pans.
7) Bake for 35-40 minutes or until toothpick inserted in center comes out clean.
8) Cool 5 minutes and then remove from pan.
9) Mix up Our Favorite Cream Cheese Frosting recipe as cakes cool.
10) Frost and stack cakes after they're completely cool.
11) Sprinkle the top with a dusting of cocoa.
12) Enjoy!