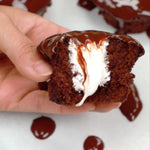 Chocolate Marshmallow Cream Cupcakes
INGREDIENTS
1 Package WOW Baking Company Gourmet Chocolate Cake Mix
3 Large Eggs
1/4 Cup Milk
1 Jar Marshmallow Cream (7 oz)
1 Package Chocolate Icing
DIRECTIONS
Makes about 12 cupcakes
1) Pre-heat your oven to 350°F and lightly coat cupcake pan with oil or add cupcake liners.
3) Mix WOW Baking Company Gourmet Chocolate Cake Mix per instructions on package. Pour batter into cupcake pan evenly about half way.
4) Bake chocolate cupcakes according to directions and cool completely.
5) With paring knife, cut a circle/core out of each cupcake and scoop out middle.
6) Spoon approximately a tablespoon of marshmallow creme into the center of each cupcake.
7) Top with either poured chocolate ganache or chocolate icing.
8) Enjoy!