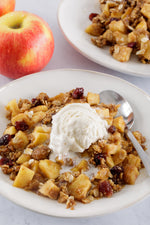 Amazing Oatmeal Apple Crisp
FILLING INGREDIENTS
5 large apples peeled, cored and chopped
2 teaspoons lemon juice
⅓ cup granulated sugar
⅓ cup pure maple syrup
1 teaspoon vanilla extract
2 tablespoons gluten-free all-purpose flour
2 teaspoons ground cinnamon

TOPPING INGREDIENTS
⅓ cup brown sugar
1 cup dried cranberries
¾ cup old-fashioned rolled oats (certified GF)
½ cup almond flour
½ teaspoon ground cinnamon
½ teaspoon salt
½ cup (8 tablespoons) butter, melted
1 container (8oz) WOW Baking Company Oregon Oatmeal cookies, crumbled
Optional: vanilla ice cream
DIRECTIONS
1) Preheat oven to 350°F.

2) In a large bowl, toss all of the filling ingredients together. Make sure the apples are evenly coated.

3) In a separate bowl, toss all of the topping ingredients together until fully combined.

4) Spoon half of the toppings into a 9-inch pie dish, sprinkling throughout the bottom of dish until most of the dish is covered. Set remaining topping ingredients aside for the topping.

5) Spoon the filling on top of cookie crumble mixture in the pie dish until evenly distributed. Evenly sprinkle remaining cookie crumble on top of the filling.

6) Bake at 350°F for 40-50 minutes, until golden brown and bubbly.

7) Serve warm and top with vanilla ice cream, as desired.
8) Enjoy!