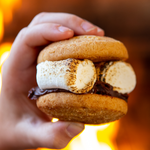 INGREDIENTS
2 1 ounce WOW Baking Company Snickerdoodle Cookies
2 large marshmallows
GANACHE
1 cup (8 oz) heavy cream
A pinch of salt
12 ounces milk or dark chocolate - in small pieces
DIRECTIONS
Makes 1 Smore

1) Heat the heavy cream to right before simmer and remove from the heat.
2) Stir in the chocolate pieces until they're melted and add a pinch of salt. Keep warm.
3) Spoon warm ganache on one cookie (about 2 Tablespoons) and set aside. 
4) Roast marshmallows to perfection.
5) Assemble by spooning 2 tablespoons of Ganache on one cookie, topping with two roasted marshmallows. Close the Smore with the other cookie.
6) Enjoy!