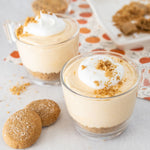 No Bake Mini Pumpkin Cheesecakes
INGREDIENTS
1 8 oz Package WOW Baking Company Ginger Molasses Cookies
3/4 Cup Pumpkin Pie Filling
1 8 oz Package Cream Cheese (softened)
1/3 Cup Powdered Sugar
1 Tsp Vanilla Extract
1/2 Tub Frozen Whipped Topping
DIRECTIONS
Makes about 6-8 mini cheesecakes

1) Crush WOW Baking Company Ginger Molasses Cookies into the bottoms of small serving cups.
2) Blend softened cream cheese, powdered sugar, pumpkin pie filling and vanilla with a hand mixer.
3) Fold in thawed whipped topping into pumpkin mixture.
4) Spoon on top of crushed cookies in serving cups.
5) Refrigerate for at least 2 hours before serving. Add a dollop of whipped cream, a sprinkle of cinnamon and a pinch of crushed cookies on top of each cup.
6) Enjoy!