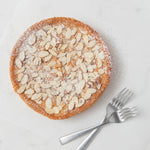 Gluten-Free Italian Olive Oil Cake
INGREDIENTS
1 Package of WOW Baking Company Yellow Cake Mix
3 Large Eggs
2 Tbsp + 2 tsp Softened Butter
2 Tbsp + 2 tsp Olive Oil
1/4 Cup Milk or Water
1/4 Cup Slice Almonds
1/4 Cup Powdered Sugar (approximate)
INSTRUCTIONS

Makes 1 Layer Cake

1) Preheat oven to 350° F.
2) Use an electric mixer to combine entire contents of WOW Baking Company Yellow Cake Mix, softened butter and olive oil.
3) Add eggs one at a time. Continue mixing.
4) Add milk or water. Scrape bottom and sides of bowl and beat on medium-high speed with mixer until smooth.
5) Pour the batter evenly into a single layer pan.
6) Bake for 35-40 minutes or until toothpick inserted in center comes out clean.
7) Cool 10 minutes and then remove from pan.
8) Place sliced almonds loosely on top of the cake and sprinkle generously with powdered sugar.
9) Enjoy!