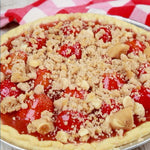 Gluten-Free Summer Strawberry Pie
INGREDIENTS

1 Quart Fresh Strawberries, Hulled
1 9-inch Gluten-Free Pie Crust, Baked
1 Cup White Sugar
3 Tablespoons Corn Starch
3/4 Cup Water
4oz WOW Baking Company Strawberries & Cream Cookies
DIRECTIONS
Makes 1 9-Inch Pie

1) Bake the gluten-free pie shell according to the recipe or directions and let cool completely.
2) Arrange 1/2 of the strawberries in the baked shell.
3) Place remaining strawberries in a medium saucepan with water and bring to a boil, stirring frequently.
4) In a small bowl, mix sugar and cornstarch and add to the strawberries in the saucepan gradually while stirring.
5) Reduce heat and simmer mixture until thickened, about 10 minutes, stirring constantly. 
5) Pour cooked strawberry mixture over the fresh berries placed in the pastry shell. Refrigerate until chilled and set, at least 3 hours.
6) Before serving, crumble Strawberries & Cream cookies on top of the chilled pie.
7) Serve and enjoy!