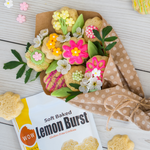 INGREDIENTS
1 Bakery Tub of WOW Baking Company Lemon Burst Cookies
GLUTEN-FREE BUTTERCREAM FROSTING
1/3 cup salted butter, softened
4 1/2 cups sifted powdered sugar
1/4 cup milk
1 1/2 tsp vanilla
Additional milk
DIRECTIONS
Generally 15 gluten-free cookie flowers

1) For frosting, beat butter until fluffy in a large bowl. Gradually add 2 cups of the powdered sugar, beating well.
2) Slowly beat in milk and vanilla.
3)  Gradually add remaining powdered sugar, beating until combined. If necessary, beat in a little milk to make frosting the best consistency for spreading.
4) Decorate each flower-shaped cookie with yummy frosting. Be creative!
5) Refrigerate left over frosting.
6) Enjoy!